Sources from New Delhi have stated that the capital witnessed the hottest day of the season on Sunday as another spell of heat wave sent the mercury to 44 degrees Celsius, five notches above normal, at Safdarjung. Palam recorded a searing 45.1 degrees Celsius. The hottest day of the season had earlier been on April 21, at 43.2 degrees Celsius, which was the highest April temperature at the station in at least the past 10 years.
The Meteorological officials said heat wave is likely to continue for the next 48 to 72 hours with anti-cyclonic conditions building up over Rajasthan. While the maximum temperature on Sunday was reported to be 44.1 degrees Celsius, the minimum was 25.3, one degree above normal. Officials at the regional weather forecasting centre in Delhi said conditions would be similar on Monday with a partly cloudy sky and the maximum temperature hovering around the 44 degrees Celsius mark. The minimum temperature is likely to be around 26 degrees Celsius.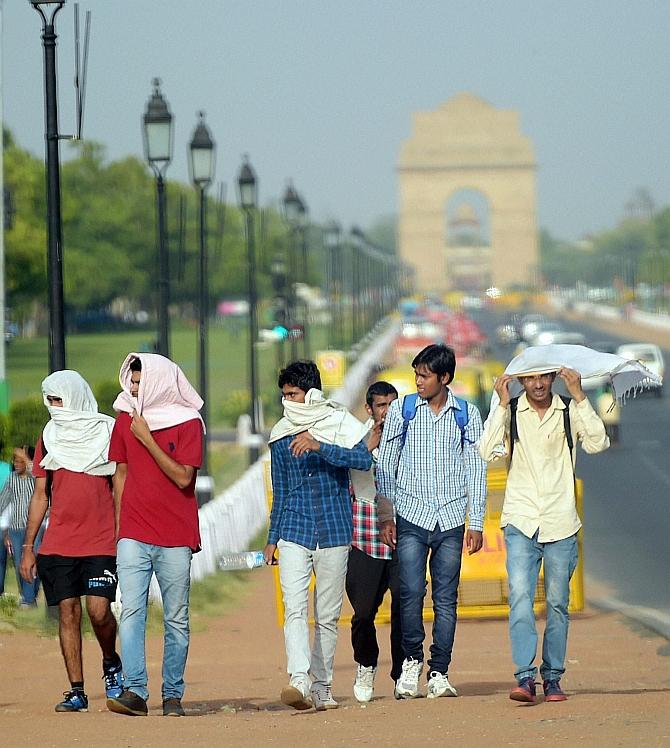 According to an official, anti-cyclonic conditions over Rajasthan have become acute, leading to heat wave conditions across the national capital region, Rajasthan, Haryana and parts of southern Uttar Pradesh. "Another spell of thunder storm and dust storm is expected between May 9 night and May 11, which may bring some respite and reduce the temperature by 1 to 2 degrees Celsius".

It was stated that the humidity oscillated between 13% and 64% on Sunday. While the Palam station recorded the maximum temperature at 45.1degrees Celsius, Aya Nagar and the Ridge reported 44.8 and 44.5 degrees Celsius, respectively.